Interface Selection
08-01-2014, 05:31 PM,
nat32support
Administrator


Posts: 15
Threads: 13
Joined: Jul 2014
Reputation: 0
Interface Selection
This dialog displays a list of all available adapters on your system. You choose an adapter you want NAT32 to use by selecting it and then clicking a Connection Type radio button.
To help you identify an adapter, select it and NAT32 will display the Adapter Description, the Adapter IP Address and its Windows Connection Name.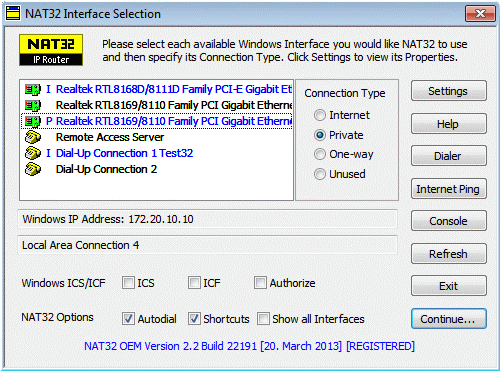 Here are a few guidelines for choosing Adapters:
To give private machines Internet access, select a private network adapter and then click the

Private

radio button.
To specify an Internet adapter, select it and then click the

Internet

radio button.
Remember, NAT32 supports multiple Internet adapters and multiple private adapters, so proceed as above until you have selected all the adapters that you want NAT32 to use.
Adapters that were not selected are ignored completely when NAT32 runs.

Once you are done, click the
Continue...
button. You will then be presented with a series of
Interface Configuration
dialogs, one for each selected adapter.
Users browsing this thread: 1 Guest(s)